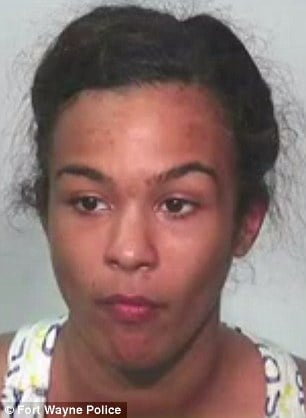 A Indiana woman ran over a motorcyclist and slammed into a Ford pickup truck because she let Jesus take the wheel. Which is crazy because, you know, the DMV has no record of issuing him a drivers license.
According to police, Prionda Hill, 25, was driving her Pontiac Grand Prix down Jefferson Blvd in Fort Wayne when, "out of nowhere God told her that He would take it from here and she let go of the wheel and let Him take it."
That's when her lord and savior ran down 47-year-old motorcycle enthusiast Anthony Oliveri. Well, first Jesus knocked him off his bike, then he kept going.
"When I looked at that bumper and looked at that tire, I told myself, today is the day you die," Oliveri told the Journal Gazette.
But Jesus spared his life that day, and instead of crushing Oliveri's skull, he just ran over his midsection, breaking all of the ribs on his left side and rupturing his spleen and bruising his kidney.
Normally one to heal the wounded, Jesus broke character and fled the scene. He smashed into the back of a Ford pickup truck before running off the road into some landscaping between two fast food joints.
By the time police got there, Jesus had peaced out, leaving Hill to deal with the aftermath. She tested negative for alcohol, but despite her admission to being prescribed Vicodin for pain relief, police did not administer a complete toxicology report, nor did they test for holy spirits.
Hill is being charged with failure to stop after an accident resulting in injury or death, criminal recklessness with a deadly weapon, and two counts of criminal mischief. Jesus said he would die for her sins, but no word yet on whether he'll take the rap for them.
Link source: http://happyplace.someecards.com/what-would-jesus-drive/woman-lets-jesus-drive-take-the-wheel-jesus-pulls-a-hitandrun/